Below is a guide on the best and most efficient method of setting up Season to process home deliveries.
First of all you will need to setup a customer code for each new customer that you have, you will want to set these up as a customer type: CS (Mini Account)
How to Setup a Cash Sale Mini account
A cash sale mini account allows customers to be created that can be hidden from your 'Active' customer list and they can be kept separate from your trade customers, but orders can still be placed for them.
To see how to setup a new customer Click Here
When setting up the code, prefix the code with CS-M followed by 4 numbers e.g. CS-M0001
Ensure that you set the Customer Type as 'CS(Mini Account)'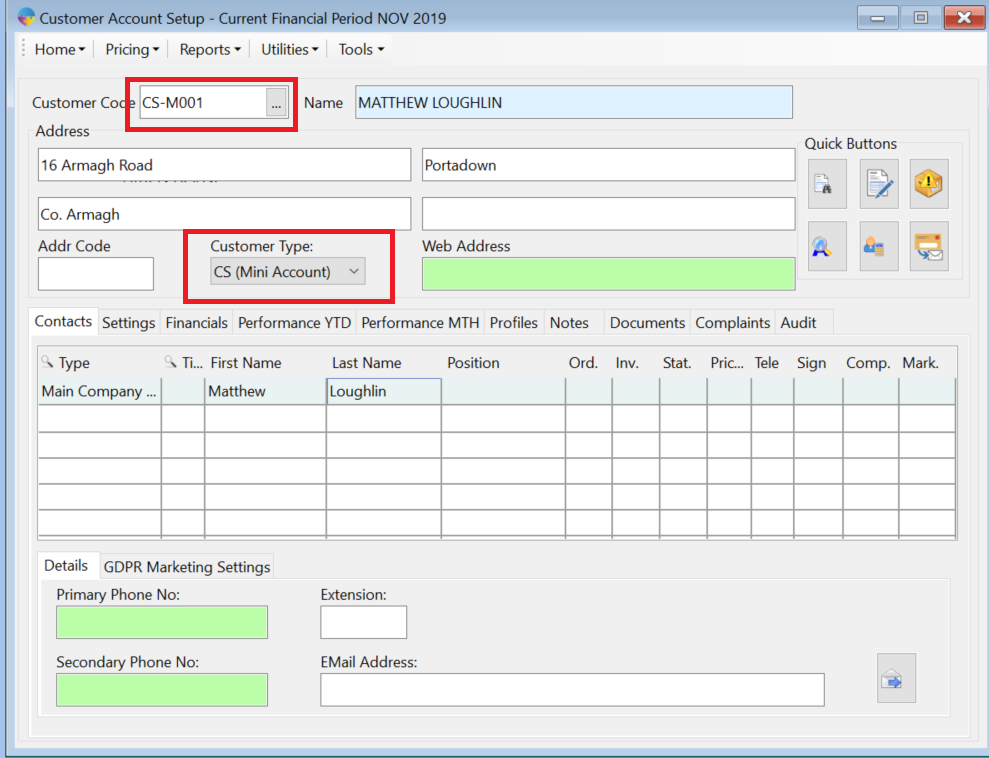 How to setup a Home Delivery Pricebook
You can also setup a Pricebook only account in Season, which can list all of your home delivery products on it at the set price for your home delivery customers.
Click this link to see how to setup a new pricebook
When setting up the account make sure that it is setup as pricebook only, as below.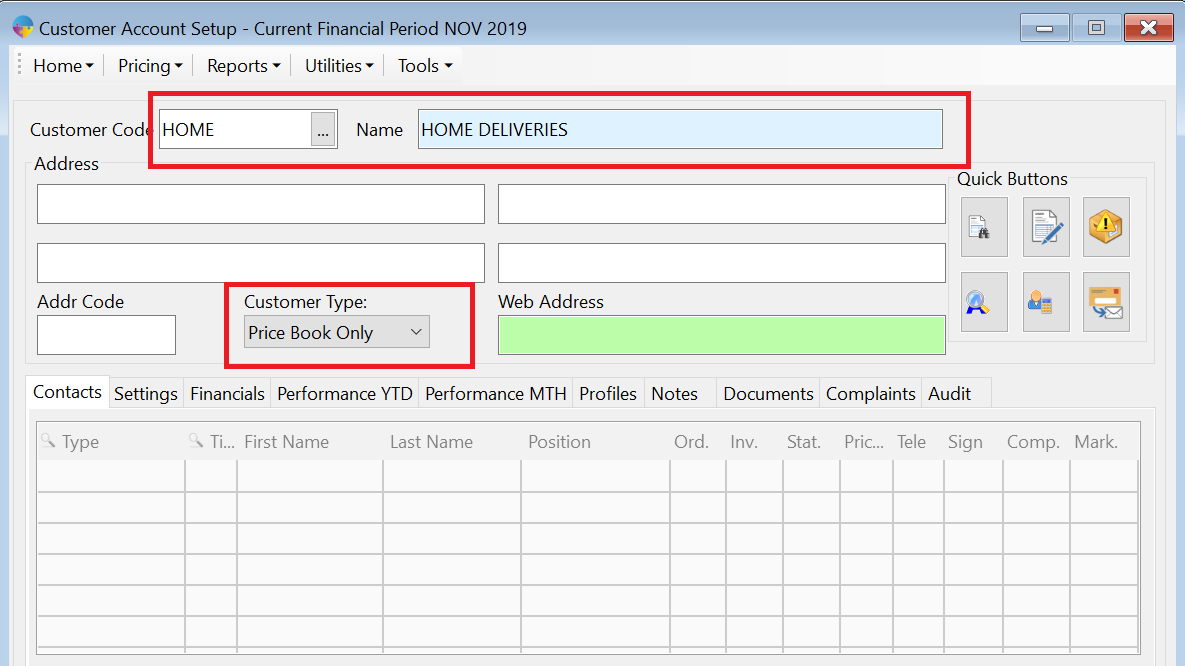 How to map your customers to the Home Delivery pricebook:
For any new 'Cash sale Mini' accounts that you setup you will now want to map these to the 'Home delivery pricebook' that has been created above.
Click here to see how to setup the mappings for each customer.
How to setup customer favourites for Home Delivery Customers:
You can also setup a customer favourites form for these customer. This link shows you how to do this.
Click here to see how to setup the mappings of customer favourites for each customer.
How to add your customer to Telesales list
You will first of all want to setup a new telesales operator(s) for the cash sale mini accounts. This will allow you to keep a separate call list from your trade customers. You can see here how to set these up.
Once this is setup you can add your customers to the call list to be called on a certain day of the week, the above link also shows how to set this up.
You may also want to setup some customers to be contacted weekly, fortnightly, or monthly. This can be managed by using the call sequence below and below is an example of how it could be setup.
Call Seq   Frequency
Blank  – Daily
01      – Weekly
02     – Fortnightly
04- Monthly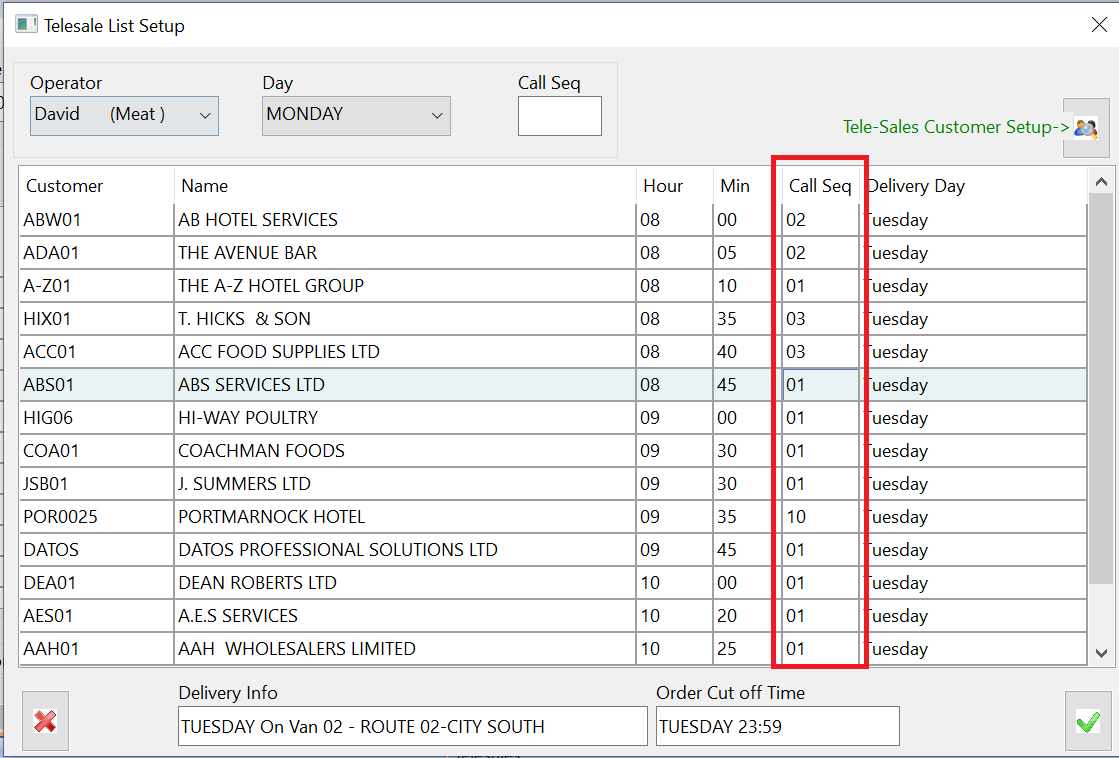 Then when you load your telesales call list, you can filter the list by using the call sequence, for example below you would only see customers on seq 01 i.e: weekly calls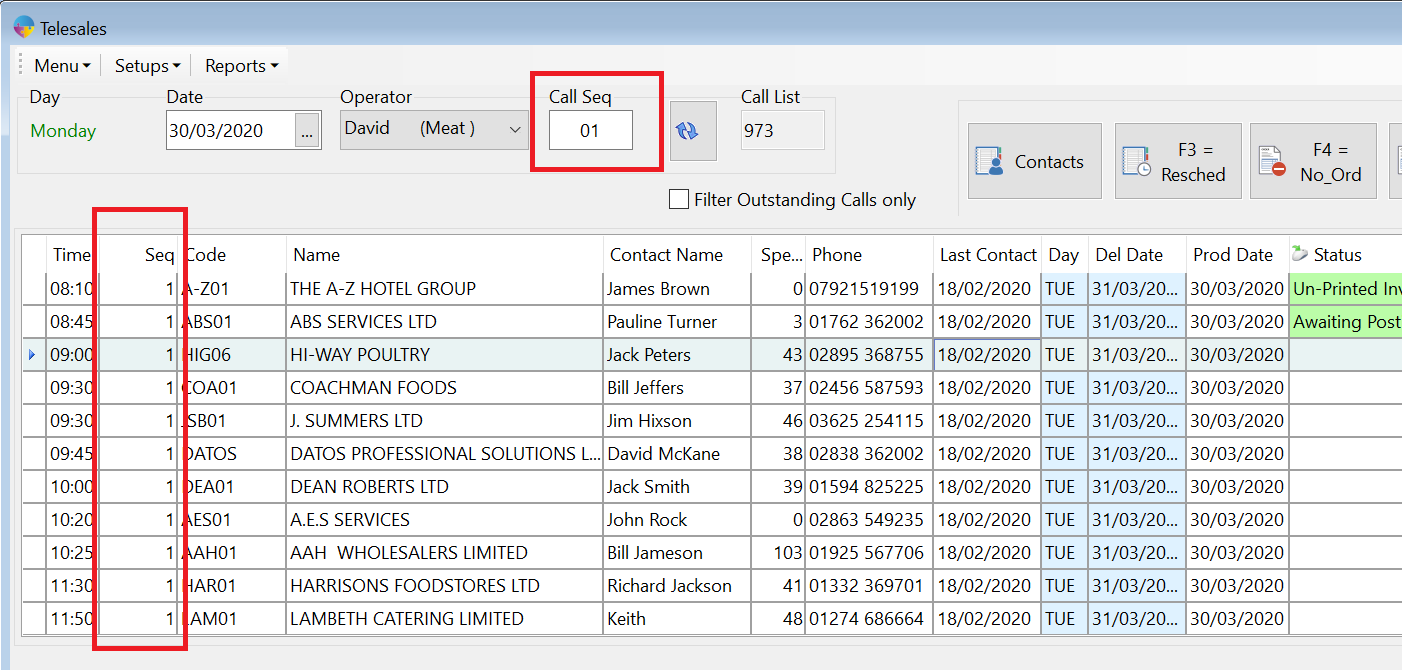 Processing orders through the system and assigning routes
Orders for these customers will process through the system in the normal way and you can also assign orders to routes. Click here to see how default routes/drops are setup for customers.
To be Developed
We will be making further developments to enhance the above and to enhance the reporting for these customer accounts. Below are some things that we will be doing.
On the pre-post summary report we will add in an option to print off the customer phone number, so they can be called to collect payment. However, we would recommend using the direct debit system in Season to automatically collect payment.
On the sales journal report and performance reports, such as the gross margin report, we will be adding in a way to summarise the totals for all cash sale mini accounts into one total, rather than breaking it down individually for each account